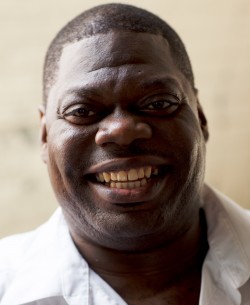 Jeff Scott, French horn/composer
A native of Queens, NY, Jeff Scott started the French horn at age 14, receiving an anonymous gift scholarship to go to the Brooklyn College Preparatory Division. An even greater gift came from his first teacher, Carolyn Clark, who taught the young Mr. Scott for free during his high school years, giving him the opportunity to study music when resources were not available. He received his bachelor's degree from Manhattan School of Music (studying with David Jolley), and master's degree from SUNY at Stony Brook (studying with William Purvis). During those years Mr. Scott studied with Jerome Ashby, David Jolley, Scott Brubaker and William Purvis. He later continued his horn studies with Scott Brubaker and the late Jerome Ashby.

Mr. Scott's performance credits are many and varied. They include The Lion King orchestra (on Broadway, New York) 1997-2005, and the 1994 revival of Showboat 1994-1997. He has been a member of the Alvin Ailey and Dance Theater of Harlem orchestras since 1995 and has performed numerous times under the direction of Wynton Marsalis and Arturo O'Farrill with the Lincoln Center Jazz and Afro-Latin Jazz orchestras.

Mr. Scott has also experienced good fortune as a studio musician. He can be heard on movie soundtracks scored by Terrence Blanchard, Tan Dun and on commercial recordings with notable artists such as Chico O'Farill, Robin Eubanks, Freddy Cole and Jimmy Heath, among others. Additionally, he has toured with artists such as Barbra Streisand and the late Luther Vandross.

Mr. Scott's arranging and composing credits are many, and include scoring the off-Broadway production of Becoming Something, The Canada Lee Story, the staged production of Josephine Baker: A Life of Le Jazz Hot!, and many arrangements and original works for solo winds, wind and brass quintet, horn quartet, and jazz ensembles. Mr. Scott's works are published by International Opus and Trevco Music.

Mr. Scott has been on the horn faculty of the music department at Montclair State University (New Jersey) since 2002.